---
Problem:

The neck of the bottle shown in the figure below is obtained by rotating

about the x-axis.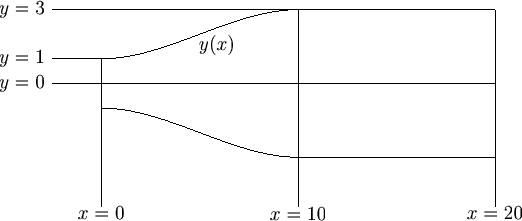 Determine the coefficients

and find the area

of the longitudinal section of the bottle and its volume

bounded by the lines given in the drawing. Take the horizontal tangent lines at the x-coordinates 0 and

into account.

Answer:

(The results should be correct to three decimal places.)
---
Solution:

First, we have
Substituting the given values yields

and hence

Substituting
and
yields

leading immediately to
and
.


Finally, we obtain
.

The area
is determined as follows:

The volume
is determined as follows:

---
[problem of the week]
---